Welcome to DOSBall!
About Us
You've just entered one of the coolest fantasy baseball sites on the internet. DOSBall is a TOTALLY FREE fantasy league that uses the DOS computer version of the classic APBA baseball board game. We're a bunch of guys who love baseball and we generally find that traditional rotisserie leagues are not exciting enough, or just aren't challenging enough. We want something more mentally stimulating. So we play in the DOSBall league.
What is it?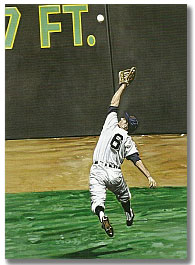 Think of our league as rotisserie on steroids. At its most basic level, we do the same thing that a roto league does: we draft major league baseball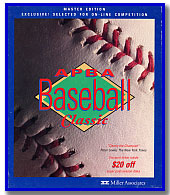 players into our rosters, and we track their stats throughout the current baseball season.
But there's much more to it: baseball is a thinking man's game, particularly for a manager. So we actually play an entire 162-game baseball season with our players, using the tried-and-true APBA game system that's been an American classic for over 60 years.
It's a reconstruction of the previous year's MLB season, because we use the previous year's stats when we play our games. But there is a great deal of improvisation as well: our actions as managers control the outcomes. That way, it's not just stats we think about. It's everything, from how good a pitcher's move to first is, to how good a fielder your shortstop is, to how good your left-fielder's arm is. If it can happen in a real baseball game, then it's part of our DOSBall league experience. From triple plays to triple steals, we not only see it happen, we make it happen.
The games are all about matching wits. Should you try and steal second in the bottom of the 9th when your team is down by a run and your opponent's catcher has a cannon of an arm? Should you leave your pitcher in for the 8th inning even though his endurance rating is weak? Or should you bring in a hard-throwing reliever who can get you a much-needed strikeout . . . but has a high walk rating?
What do I need to join?




Just an appreciation of baseball. We'll set you up with the game on your computer in about 20 minutes. We have some expert technical people in our league who can set up anything, no matter what operating system you're running. Some of our guys use 64-bit Mac computers to play the game. Lots of guys play their games on Windows, both 64- and 32-bit. One of the tech guys plays all his games on a 64-bit Linux system.

You can even play your league games on your iPad via the cloud. No matter what machine you use, all your team stats and standings will be posted to the league web site. Whether you are an experienced APBA player or a roto leaguer wanting to try something different, you'll find our technical expertise and help will make things very easy for you. We'll even help you design a professional-looking logo for your team!
Why use an MS-DOS-based game?




We're big fans of the APBA DOS game. It's simple, elegant, and fast. It also lends itself well to head-to-head play over the internet. A typical four-game series can be played online in about an hour or less.

A lot of league members have tried other games over the years, and there are some decent alternatives. But we find the APBA DOS game has a charm all its own.

Yes, you can play baseball on your PS4 or XBox One and the graphics are glitzier. But the art of sabermetrics - the study of baseball statistics - is embodied much more fully in APBA and our DOSBall league.

League Features




Fully functional DOS game, even in 64-bit environments.
Runs on all versions of Windows (including Windows 8), Mac OS X, and all Linux distributions.
Recording capability - watch your games after you play them! Video highlights will be posted occasionally to the league web site.
Friendly environment, we love to play the games and we treat our league members with respect.
DOS game is preferred, but occasional head-to-head play in BBW 5.5 or 5.75 is allowed. All your stats will be saved and updated on the league web site, no matter which game you choose.
DOS APBA card viewer - view your cards while you play.
Expert tech support - no need to know how to install the game or disks, we do it all for you.
Downloadable PDFs of your APBA cards.
Advanced roto features through CBS Sportsline - get the best of both worlds! Play APBA and still enjoy the roto standings all year long for the current season!
APBA in the cloud - play your games anywhere, even if you've left your files at home! We'll set you up with a Windows Live Mesh account so you can play your games via the cloud.
Want to play your games on your iPad? We'll set you up for that, too. If you're in China with your iPad, you can play your league games simply and easily.